Janjagama: photo story about anagama workshop in Janja Gora
In the beginning of August 2013 a week long workshop took place in Janja Gora, Croatia. It was all about wood firing ceramics in a special kiln called the anagama.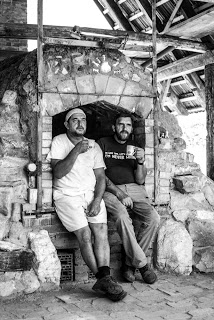 Branko Šupica, the owner of kiln and atelier in Janja Gora and Lou Smedts, a ceramics guru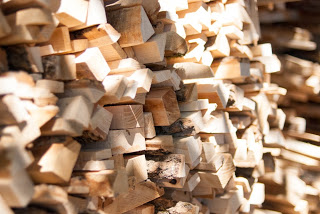 wood, prepared and cut into small pieces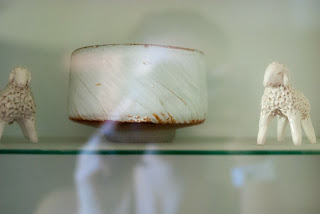 a Lou Smedts chawan, also seen on a cover of a Chawan Expo magazine, now owned by Branko Šupica (he has a cupboard only and full of chawans in his living room)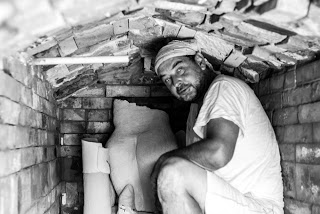 Branko happily loading his favourite kiln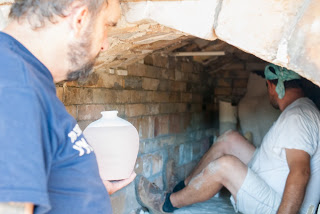 a journey of one of my vases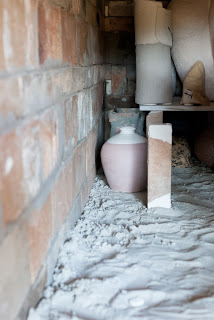 turned out as a nice spot in the kiln (the atmosphere along with its temperatures varies throughout the kiln)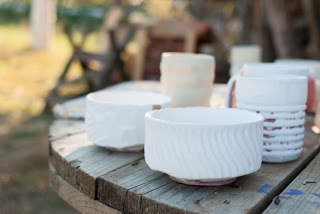 my glazed pots waiting to be loaded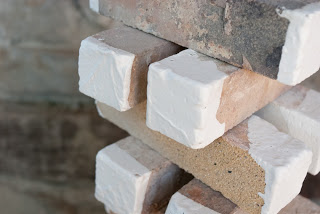 all things have protective layers so they don't stick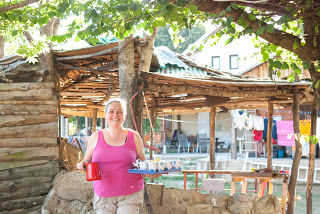 Danijela Pešut, the lady of the house and a great ceramist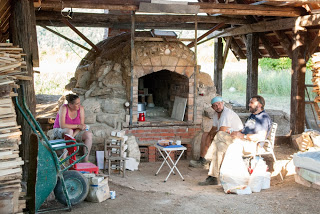 coffee breaks – balkan style as with real turkish coffe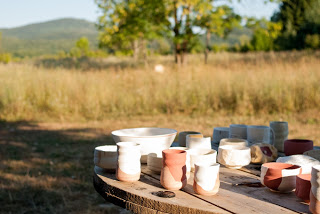 the scenery was also amazing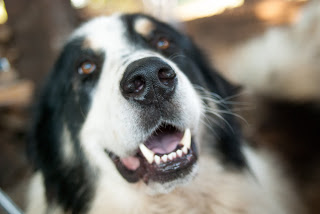 Jinx, a true tornjak guarded my tent at night and I felt safe; later they told me he killed a wolf last year, so thank you J!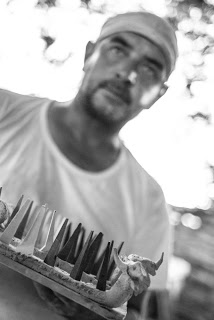 cones are indicators of temperatures; different cones bending or melting tell us the reached temperature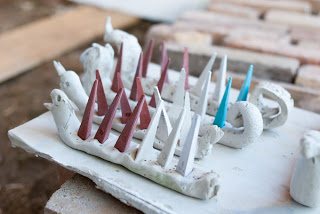 first five melted, last (cone 10) bent: my first cone 10 down! pyrometer's top temperature:
1337°C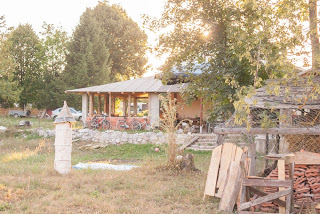 once the house and atelier will be finished, it will be beautiful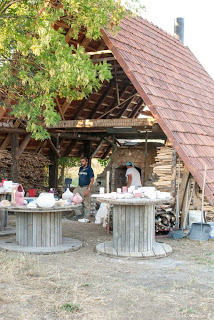 but the kiln and its house is very finished!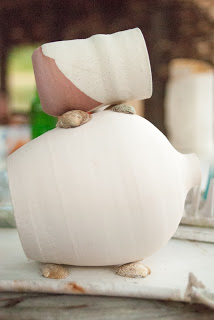 I played with shells, they make nice imprints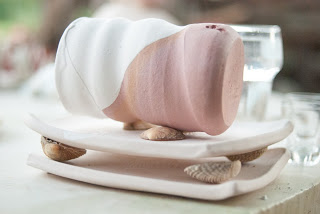 I have 2 new dessert plates now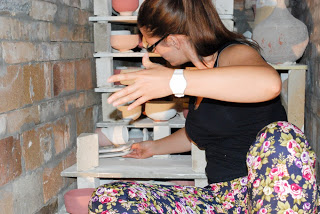 it was also my time for loading, I wanted to learn all the rules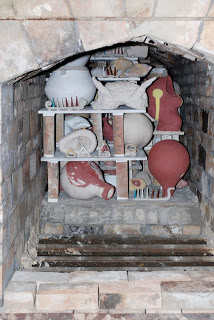 loaded, after several hours
closed with bricks an doors, ready for morning firing
next morning, Branko woke up early and collected local goods
rakija as a celebration and start of firing
local goods as an offering to the kiln gods. religion: anagama
proud Branko with his guardian dog in front of his kiln
cutting of wood to start the fire was also a part of a ritual. but yet everything with anagama is.
she drank one cup of rakija too
8:30 – ignition
and this is how you fire anagama, for 15 hours
when the flames cleared (every time the kiln digested the loaded bundle of wood) you could see the pots glowing; at its highest temperatures the glow was pure white, like looking into the Sun
chimney started to glow, roof started to burn
master firerer
we finished in 15 hours, quite fast due to a good kiln and a small load
after last load of wood, we closed the kiln with doors and holes with mud. now the final reduction takes place, making the glazes sooo beautiful
black smoke means heavy reduction
and now the five day long cooling and waiting begins. a photo of atelier
i did some turning
a visit to a local honey producer
Plaški church
Dretulja spring
Plitvice lakes
crew over Plaški view
and while waiting, I listened to Mr. Lou's private lessons, as a real apprentice, as true ceramic geek. luckily for me, he loves to talk a lot about ceramics. he is a master, a teacher, a traveler, a ceramist with three Ph.Ds and a great man
FINALLY! THE OPENING! drums had to be there
a new ritual for the opening
celebration time
hard working feet
see the blood? a rooster got killed. a sacrifice
we threw 9 kg of salt in the kiln, only these crystals were left on the floor
sheep were working hard too, all covered in mud
cake!
he guarded the kiln well
and finally: the opening!
fired
all gathered
 well done not medium rare
to Peter
result is 10% success: chawan with tea dust glaze is amongst them
chawan, porcelain, localy made celadon
chawan, from me for me
my new salad bowl with my new favourite glaze: flashing slip 
ash melted into a green ash glaze, which dripped into chawan