Od kamna do sklede – razstava keramike / Rock to bowl – ceramic exhibition
Vabilo
Studio Anja Slapničar vas vljudno vabi na otvoritev razstave OD KAMNA DO SKLEDE: raziskava geologije in trajnostne izdelave keramike. Otvoritev razstave bo potekala v torek, 10. septembra 2019, ob 18. uri na Tržaški cesti 36 v Ljubljani.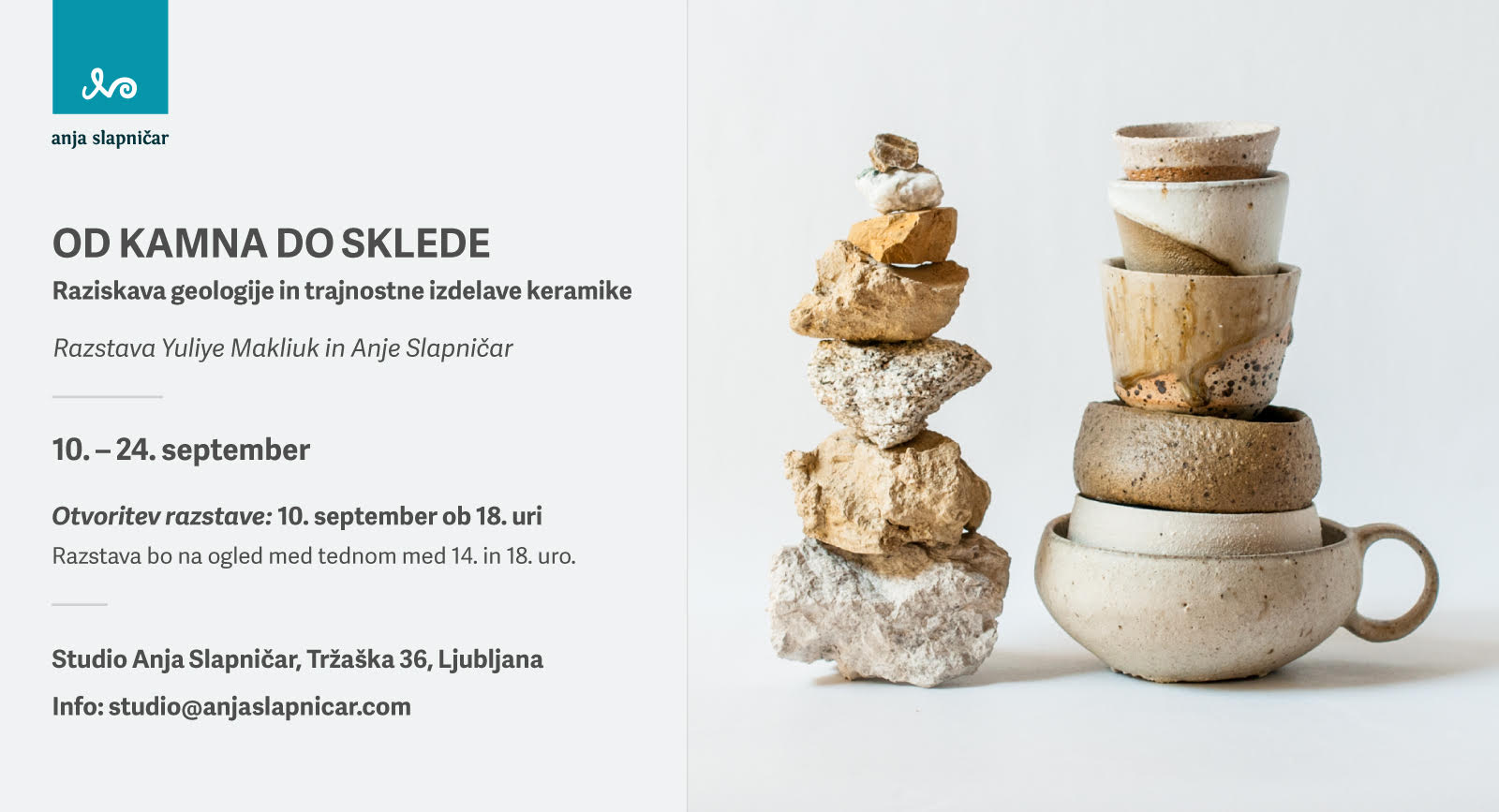 Razstava je rezultat dvomesečnega sodelovanja med slovensko keramičarko Anjo Slapničar in ukrajinsko keramičarko in okoljevarstvenico Yuliyo Makliuk. Osrednja tema skupnega dela je raziskovanje trajnostnih in etičnih ravnanj pri izdelavi keramike. Odsev sodobnega stremenja k potrošništvu in enkratni uporabi produktov bo iskanje alternativnih načinov preživljanja časa in ustvarjanja.
Projekt se jasno osredotoča na zmanjšanje okoljskih in socialnih vplivov predvsem na začetnem koraku izdelave keramike, tj. pridobivanje surovin: glin in kamnin. Ali se je mogoče izogniti nakupovanju komercialnih materialov, ki pogosto prepotujejo (pre)dolge razdalje?
Kako bi izgledala ultimativna slovenska keramika? Kako intenzivno delo nabiranja in procesiranja lastne gline in materialov vplivajo na končne rezultate in spotoma na nas same?
Geologija igra kritično vlogo pri naši produkciji. Predlagamo teorijo, da se lahko za izdelavo naše keramike uporabi katerikoli geološki material. Hkrati pa stremimo k temu, da ničesar ne zavržemo, ali pripeljemo od daleč stran. Za namen projekta smo raziskovali različne lokacije, med njimi tudi območje v okolici Ljubljane, okolico Kranja, severni predel Mariborskega Pohorja in okolico Gornjega Grada. Skupaj s predstavitvijo keramičnih del bomo predstavili tudi nabor materialov najdenih na lokacijah: rdeče gline bogate z železom in kremenom, črne gline nastale iz preperelih črnih skrilavcev, vulkanske tufne gline in druge.
Občinstvo nagovarjamo, da sledi potovanju skozi izbor keramičnih objektov in surovin iz katerih so bili narejeni.
Program:
18:00 – otvoritev razstave
18:30 – pogovori z umetnicama
19:00 – sprejem
O umetnicah:
Anja Slapničar je keramična umetnica, učiteljica in lastnica keramičnega studia. Že več kot 10 let raziskuje, kako vključiti lokalno geologijo – glino in kamnine v njeno umetniško izražanje. Svojo inspiracijo išče na vseh umetniških področjih, predvsem pa v naravi. Je tudi avtor projektov in delavnic, ki vključujejo delo z glinami in kamninami in neposrednega okolja. Njen studio se nahaja v 150 let stari stavbi, opremljen je s trajnostnimi lokalnimi materiali.
Yuliya Makliuk je okoljevarstvenica, ki prihaja iz Kijeva, Ukrajine. Inspirira jo umetniška keramika, ki ima potencialni vpliv na dojemanje ljudi do materialnih objektov v vsakodnevnih obredih. V njenem studiu 'Lončarstvo Tukaj in Zdaj' se osredotoča na življenjski cikel materialov: od pridobivanja gline, do porabe energije in trajnostne embalaže in pošiljanja. Yuliya veliko eksperimentira in konstantno išče alternative, ki na vsaki stopnji zmanjšujejo negativen vpliv na okolje. Njeno vajeništvo v studiu Anje Slapničar je podprto z evropskim projektom Erasmus za mlade podjetnike.
//
Invitation
Studio Anja Slapničar is delighted to invite you to the opening of exhibition ROCK TO BOWL: a study of geology and sustainable ceramics. The opening will take place on the 10th of September 2019 at 18:00 at Tržaška cesta 36, Ljubljana, Slovenia.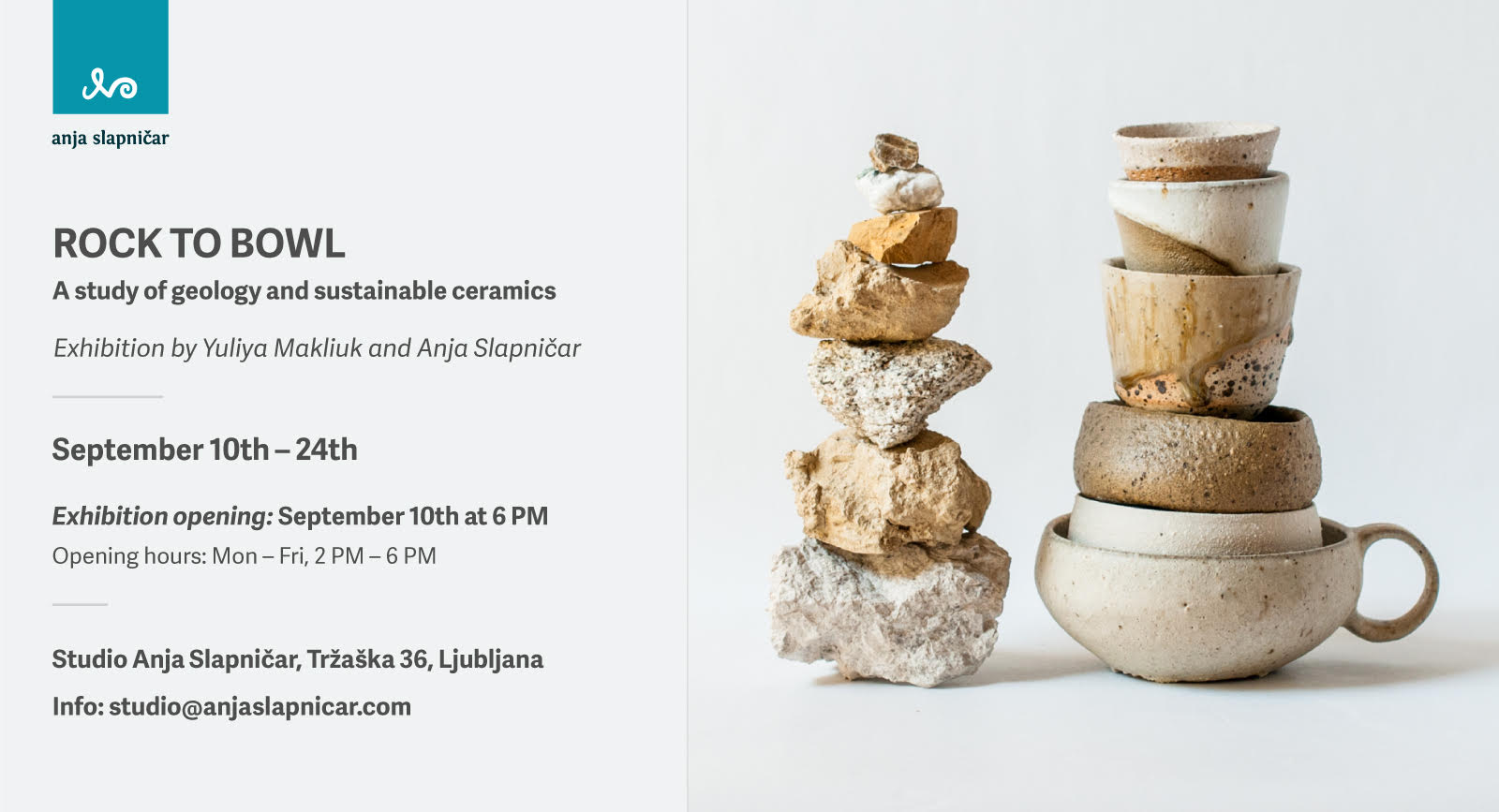 The exhibition is a result of 2-months collaboration between Slovenian ceramic artist Anja Slapnicar and Ukrainian ceramicist and environmentalist Yuliya Makliuk. At the core of this work is exploration of sustainable and ethical practices in ceramic production. Reflecting on modern tendencies of single-use consumption, we seek for an alternative way of living and creating.
For this project we specifically focused on decreasing environmental and social impacts at the first stage of ceramic manufacturing – that is obtaining raw materials like clays and rocks. Is it possible to refuse buying commercial materials from overseas? What would the ultimate Slovenian tableware look like? How does the labor-intense practise of collecting and processing one's own clay influence the final results and the artists themselves along the way?
Geology plays a critical role in our production. We propose a theory that any kind of geological material can be incorporated into or onto ceramics. We aim that no material is thrown away or transported long distances. For this exhibition several locations were explored, including area around Ljubljana, surroundings of Kranj, northern part of Mariborsko Pohorje, Gornji Grad. Together with presentation of ceramic artworks there will be displayed a selection of materials found on site: red clays rich with iron and quartz sand, black clays derived from black slates, volcanic green tuffs and more.
The audience is invited to follow our journey through the selection of ceramic objects and raw materials they have been made of.
Program:
18:00 – exhibition opening
18:30 – artists' talks
19:00 – reception
About the artists:
Anja Slapničar is a ceramic artist, teacher and studio owner. Over the last 10 years she has developed a strong expertise in researching and incorporating local geological materials like clays and rocks into her artistic practise. Anja draws her inspiration from all things artisanal that surround her and especially from nature. She also teaches exclusive classes on working with wild clays and glazes. Her studio is in a 150 years old building renovated with sustainably sourced Slovenian materials.
Yuliya Makliuk is an environmentalist and ceramicist from Kyiv, Ukraine. She is inspired by the influence that artisanal ceramics can have on people's perception of material objects and everyday rituals. In her 'Here and Now Pottery' studio she pays close attention to a product's lifecycle: from clay extraction to energy use to packaging and shipping. Yuliya experiments a lot and constantly looks for alternatives in order to minimize or offset environmental impacts at every stage. Her internship at Anja Slapničar's studio is supported by the Erasmus for Young Entrepreneurs program.